Lichens of New Zealand: An Introductory Illustrated Guide
Allison Knight
Up-coming publication of revised Lichen Guide
Information about when the book will be available and how much it will cost will come later. Allison is hoping to have it available by mid November.
The Lichen Guide is now out of print, but you can download (PDF, 107MB) the whole book in full colour here!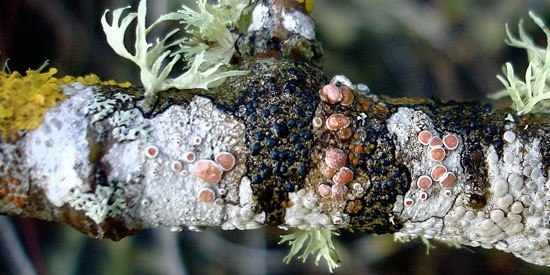 A5, 56 pp, full colour.
Published by the Botanical Society of Otago, using the Audrey Eagle Botanical Publishing Fund.
This introductory guide celebrates the extraordinary diversity of New Zealand lichens with full colour images of over 250 common lichen species, plus a glossary illustrating over 60 useful identifying features. Species are divided into 4 colour-coded ecosystems and displayed in order of the three main growth forms.
New Zealand is exceptionally rich in lichens and harbours around 10% of the world's lichen species. They are an important, yet often overlooked, component of every ecosystem from the seashore to the mountaintops and contribute over 1800 taxa to New Zealand's biodiversity—nearly as many species as seed plants.